How to wash clip in hair extensions
Before washing, we need do some ready to work. Use the hair extension safety brush to brush your extension from head to tail. I recommend loop brush, be sure to brush gently from bottom to top! Make sure all the clips are closed. Fill the sink with warm water, fold the weft to make it easier to grasp.
The preparations are ready, we are going to officially clean. Submerge the piece by piece of hair extensions into the water, avoid swishing or swirling the hair, because this may cause the extensions to tangle. use the small amount of the shampoo, apply it evenly on the extension, also need to be careful not to rub them. Repeat this process to each piece.
After washing all the pieces, empty the sink, rinse each piece with water under the tap until all the shampoo is removed.
After rinsing, use the conditioner to repeat the above steps, but do not rinse immediately when applying the conditioner. Leave the conditioner for 10-15 minutes or as long as possible. This will strongly moisturize your hair.
Okay, so our cleaning is done to the end, the next step is to dry, lay the extensions set flat onto a towel and Wipe it gently. Spray drying hot agent, clip it with a hair straightener.In this way, the extensions are cleaned.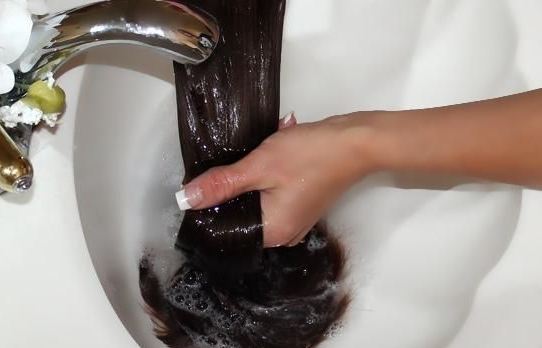 Advice: As clip in hair extensions can not recreate natural oils to protect themselves, every cleaning will affect their lifespan, this will shorten their lifespan. So, we do not recommend you to wash them often. We recommend that the extensions have a peculiar smell, and when the product accumulates or changes in appearance and feel are found, then wash them.