ON SALE TODAY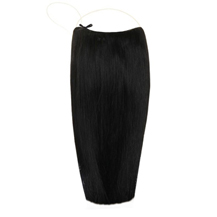 5H27M17S
Indian Remy Hair Secret Hair Extensions
Our Secret Hair Extension is that you can have what looks like a full head application of pre bonded hair extensions without the time requirement for a salon application. The Secret Hair Extension is something you can do in your own home. When you want to remove it, simply flip it back out. The Indian Remy Hair Secret Hair Extensions take a minute to put in and a second to remove, when you are ready to.

Secret Human Hair Extensions
Our Secret Human Hair Extensions are made of 50 or 100 grams of our 100% Indian remy human hair to a virtually invisible headband that moves, feels, and looks like your own natural hair. It is the simplest damage free hair extensions method available and also the quickest. There is no need for glue. There is no need for clips. You simply flip in the halo of hair using the invisible 'Secret-Wire'. This is fully adjustable for a unique fit for each individual. The shape of your head and the weight of your own hair keeps it comfortably in place. This is guaranteed not to damage your hair in any way.

All secret human hair Extensions are guaranteed to be made of 100% Remy Human Hair which means you can curl, straighten and colour them as if they are you own hair.Now you can have long, silky, thick hair within minutes with an amazing price.
Secret Synthetic Hair Extensions
Our synthetic Indian Remy Hair Secret Hair Extensions are made of 50 or 100 grams of our proprietary synthetic hair.For a longer length, synthetic hair extensions both look natural and are low maintenance to live with.Synthetic hair extensions are valued for their ability to blend in with your natural hair but are more affordable than their human hair counterparts. They are comfortable to wear, can add volume, length or both to your existing style for instant glamour. These properties are retained day after day with very little need for maintenance on your part. You can use them to enhance your natural curls and add volume quickly.